VW Car Comparisons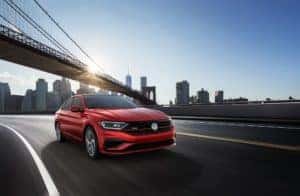 Be sure you're making the best purchasing decision by putting comparing Volkswagen side-by-side with the competition. As the second largest automaker in the world, Volkswagen is a great choice for your next vehicle. We're not the only ones who think so. Volkswagen has won many awards and accolades over the years, proving they're one of the best automakers out there. Out of the top ten best-selling cars of all time, Volkswagen made three of them. Volkswagen has one the European Car of the Year award three times and they have the most World Car of the Year awards for any single automaker.
But what is it exactly that puts Volkswagen ahead of the competition?
Volkswagen Vehicle Comparisons:
Atlas:
Atlas Cross Sport:
ID.4:
Jetta:
Passat:
Tiguan:
Taos:
Volkswagen Arteon and Volkswagen Beetle:
Volkswagen Brand Comparisons
The German engineering of Volkswagen vehicles is not just a gimmick we use to sell vehicles. We rave about it because we're proud of the high standard of our vehicles, which is such an important factor to our Sarasota clients. The Volkswagen Beetle was originally designed and built during WWII as a means to help with the war effort.
Though the Beetle was altered for many different purposes, the iconic shape and the performance engineering have stuck around through the years. Built to perform like a racecar, Volkswagen vehicles have a sport-tuned suspension, turbocharged engines, and a combination of safety and comfort features you won't find in other vehicles, making them one of the best options for Fort Myers commuting.
The high tech safety features in the 2019 Volkswagen model lineup include Anti-Lock Braking System (ABS), Hydraulic Brake Assistant (HBA), lane change assist, adaptive cruise control, rearview camera, side assist system, and voice activation. Touchscreen navigation, state of the art premium audio systems with Bluetooth audio streaming and HD radio, as well as SiriusXM Satellite radio and portable audio system integration are just a few of the available entertainment options.
Volkswagen vehicles are engineered, designed, and manufactured with expert craftsmanship and high-quality finishes. From leather interior with contrast stitching, soft-touch materials, and chrome finishes, you'll see the style and class you're looking for. High-quality engineering and manufacturing and a strong sense of responsibility make Volkswagen vehicles a great choice for any North Port buyer.
The German automaker is interested in more than just making great cars. With all of the advancements in environmental conservation technology, Volkswagen is making a point to include those technologies into their lineup.
At Norm Reeves Volkswagen Superstore Port Charlotte, we believe Volkswagen vehicles are the best. That's why we're happy to put them to the test in side-by-side comparisons with the competition. We compare the latest Volkswagen models with the comparable vehicles in their class to give our customers a close look at what sets the vehicles apart.
When you're ready to take a look at the latest 2019 Volkswagen models, come into Norm Reeves Volkswagen Superstore Port Charlotte. We're located just a few minutes from Fort Myers, Sarasota, and North Port. Stop by today for a test drive.