2020 VW Tiguan vs Toyota RAV4

When you're looking for the ideal midsize SUV, characteristics like style, performance, and reliability are at the top of the list. The 2020 Volkswagen Tiguan and the 2020 Toyota RAV4 both flaunt these necessary traits as well as a couple more–so what's the difference between them?
For car buyers around the Fort Myers and Port Charlotte areas, Port Charlotte Volkswagen has put together this 2020 VW Tiguan vs. Toyota RAV4 comparison so you know which car is best for you.
Take a Peek Under the Hood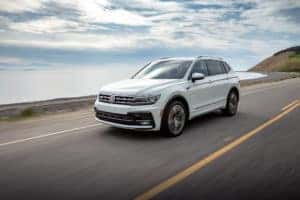 If you like a little extra oomph in your midsize SUV, then you'll appreciate what the Volkswagen Tiguan and Toyota RAV4 have to offer.
The 2020 VW Tiguan features an available 2.0-liter 4-cylinder turbocharged engine. This souped-up engine has an 8-speed automatic transmission with Tiptronic® and sport mode, which produces 221 lb-ft of torque.
These features allow you to automatically switch gears for seamless performance, or switch manually for a more athletic and sportier ride.
When comparing these features to the 2020 RAV4, we see a slight downtick in versatility. Its 2.5-liter 4-cylinder engine only produces 184 lb-ft of torque, limiting the overall performance.
2020 VW Tiguan vs Toyota RAV4: Keeping You Safe
Safety is a major priority for both the 2020 Volkswagen Tiguan and the 2020 Toyota RAV4, and they show this through a bevy of features designed to protect everyone in the vehicle.
The VW Tiguan safety suites, for instance, come with an Intelligent Crash Response System or ICRS. ICRS assists drivers and first responders in the event of a crash. When the airbags are deployed, this system will unlock all doors, so it's easier to maneuver in and out of the vehicle. Also, high-voltage electronics are disengaged, and the fuel pump is disabled, limiting the risk of a fire.
The Volkswagen Tiguan also comes with Electronic Stability Control and an Electronic Differential Lock, both of which provide you with more traction while driving.
The Toyota RAV4 has its own set of safety features, although not quite as extensive. Available dynamic torque-control AWD offers added stability when driving, but the omission of ICRS is notable.
Infotainment System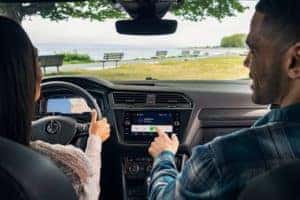 When zipping along the backroads with your new midsize SUV, you'll probably want some entertainment. The 2020 Volkswagen Tiguan offers plenty of this, as does the 2020 Toyota RAV4.
The VW Tiguan has an available 3-month SiriusXM® Traffic and SiriusXM Travel Link® subscription that will help you navigate even the most complex directions. If you want some music, you get that also with a 3-month SiriusXM® Satellite Radio subscription.
If you just want to listen to your own playlist, that's possible, too, thanks to Volkswagen Car-Net® App-Connect, allowing you to sync your phone with the SUV. Also, the VW Car-Net® Security and Service feature means you can use your phone to locate your car, check to make sure the doors are locked, and phone for help in the event of an emergency.
You can also sync your phone with the RAV4 using its standard audio packages with connectivity capability. However, if you want a comparable security and service feature, you'll have to go back to the VW Tiguan.
Learn more about the 2020 VW Tiguan technology.
2020 VW Tiguan vs Toyota RAV4 Conclusion
Each of these models would be a terrific and reliable ride, but with added power and more extensive safety features, the 2020 Volkswagen Tiguan stands out when compared to the Toyota RAV4.
If you're car shopping around the Fort Myers and Port Charlotte areas and want to get behind the wheel of the Volkswagen Tiguan, contact Port Charlotte Volkswagen to schedule a test drive.