Oil Change Port Charlotte, Florida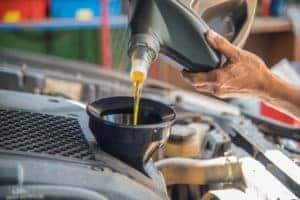 Like all regular vehicle maintenance, oil changes are a necessity for those Volkswagen owners who want to maintain the value of their investment. Keeping your vehicle well-maintained has the additional (and obvious) benefit of keeping your vehicle drivable so you can drive to all of your favorite spots in Port Charlotte. Schedule a service appointment online now.
Oil Change Service
Oil changes are necessary for many reasons, the biggest being that motor oil gets dirty. Motor oil lubricates important metal parts and keeps them from rubbing against each other which can cause overheating and damage. As the lifeblood of your Volkswagen, motor oil prevents that damage by creating a barrier between the parts. Dirty oil contains particulates that rub against those moving pieces, damaging them along the way. Along with causing damage, dirty motor oil lowers the efficiency of your engine and can cause severely lower fuel economy since your engine is not running efficiently.
Oil Change near Fort Myers FL
Synthetic Oil vs Conventional Oil
What Kind of Oil Does a VW Jetta Take?
When Do I Need My First Oil Change?
When to Schedule an Oil Change
The schedule you should follow for your oil changes are listed in your Owner's Manual. Though there is information from other sources, the information in that manual was included because that's what the engineers of your Volkswagen deemed best to maintain the health of your vehicle. Depending on your driving habits, you may need to get your oil changed more frequently. The service technicians at Norm Reeves Volkswagen Superstore Port Charlotte can let you know what they think when you come in for your next oil change in Port Charlotte, FL.
Synthetic vs Conventional
One option you'll have for your oil change is whether to use synthetic or conventional oil. This choice really just depends on your preferences. Synthetic oil tends to last 2-3 times longer than conventional oil, but the price is reflective of this time frame. So though you'll spend less money on conventional oil, you'll have to come in for an oil change more often. So it's really up to you.
VW Service Center
The best people to take care of your Volkswagen vehicle are the people who know your vehicle best. The service technicians at Norm Reeves Volkswagen Superstore Port Charlotte are specially trained to take care of your regular maintenance and any necessary repairs. We love Volkswagen's just as much as you do which is why we take the time to inspect your vehicle thoroughly every time you come in for a Volkswagen service in Port Charlotte.
At Norm Reeves Volkswagen Superstore Port Charlotte, our first priority is customer satisfaction. We do everything we can to make your service experience enjoyable every time. When you come into our service department, we'll inspect your vehicle fully, wash it so it's nice and clean for you, and even give you a loaner if we have one available. Our waiting area has free WiFi, free coffee, and free donuts for all of our customers. We are conveniently located at 1252 Tamiami Trail in Port Charlotte, just minutes away from Fort Myers, Sarasota, and North Port.
We also offer convenient online scheduling so you don't need to call us. However, you can give us a call at Call service Phone Number877-203-4003 Call service Phone Number888-879-5018 if you'd prefer. Our service department is open Monday through Friday from 7:00 A.M. to 6:00 P.M. and Saturday from 7:00 A.M. to 2:00 P.M.