When Do I Need My First Oil Change?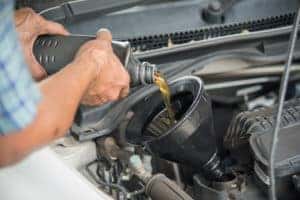 You know oil changes are one of the most important services that your new Volkswagen needs to maintain its impressive performance. But did you know that the most important one is your first oil change?
Your vehicle's first oil change keeps your engine running like new and ensures protection early on to extend its longevity. So when do you need to schedule your first oil change? Read this guide provided by Port Charlotte Volkswagen to find out.
Call Us with any questions!
First Oil Change New Car
The first oil change for your vehicle will need to be scheduled when your odometer reaches about 10,000 miles, depending on your specific Volkswagen model. To determine the exact mileage when you'll need to schedule your first oil change, check your owner's manual.
During this service appointment, professionals will drain the old oil from the engine and replace it with fresh, clean fluid. They'll also change the filter to ensure proper engine performance.
When to Schedule Subsequent Oil Changes
After your car has gone through its first oil change, you'll want to schedule its following oil changes every 10,000 miles. Again, check your owner's manual for the exact interval for your specific Volkswagen model.
It's important to stay on top of this because your Volkswagen needs clean oil to run properly. Fresh oil keeps the engine clean and cool and ensures that all of the little parts within the system are lubricated for a smooth performance. Unfortunately, the fluid will deteriorate and have a harder time fulfilling its duties with time. This can cause severe engine damage. The best way to avoid this is to schedule routine oil changes.
You also want to be on the lookout for any warning signs that indicate that your car needs an oil change. These include loud engine noise, an active engine warning dashboard light, and the smell of oil in the cabin. These warning signs can happen at any time even between scheduled oil changes, and once you notice them, you'll need to schedule a service appointment to avoid potential damage.
How to Check Oil
It's also important to check the oil level in your Volkswagen to make sure that there's enough. This is a simple procedure that takes just minutes when you follow the steps below:
Pop the hood of your Volkswagen and locate the dipstick. This has a yellow ring and should be near the engine.
Pull out the dipstick and wipe off the fluid with a rag.
Insert the clean dipstick back into the tank and pull it out again.
The oil level should fall on the crosshatched mark of the stick. If it doesn't, then your vehicle doesn't have enough oil in its system. To fix this issue, you simply have to add more oil in.
To do this, just unscrew the oil filler cap on the engine. Then use a funnel to add more oil into the tank and don't overfill it. Adding too much fluid to the engine can lead to catalytic failure as well as severe engine damage.
You must also use the right oil for your specific Volkswagen model. To learn about which type of oil your car needs, check your owner's manual or talk to your professional Volkswagen dealership.
Schedule Your Oil Change Today!
Your first oil change is one of the most important for your vehicle, so make sure that you know when to schedule it.
For more information or to schedule your vehicle's first oil change, contact Port Charlotte Volkswagen near North Port, Sarasota, and Fort Myers today!