Volkswagen Trim Comparisons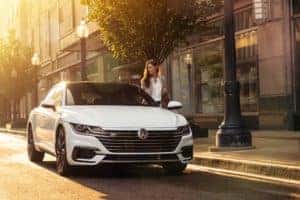 You know the Volkswagen model you want, but did you choose the right trim? If you haven't, you're not alone. With so many trim options, drivers in Fort Myers, Sarasota, and North Port can have a tough time finding their ideal vehicle.
However, Port Charlotte Volkswagen is working to make your car buying decisions easier with our Volkswagen trim comparisons.
Understanding Volkswagen Trim Levels
­It isn't enough to just know the model you want. Every car in our showroom, from the VW Tiguan to the VW Passat, comes with multiple trims designed to deliver a specific driving experience. Each one can include different powertrain, features, and technologies. So how you can see what each Volkswagen trim has to offer?
It's simple. All you have to do is read a Volkswagen trim comparison.
The trim comparisons by Port Charlotte Volkswagen list all of a specific model's available trim levels. They also go over the standard and optional features equipped in each one as well as their individual performance specifications.
Overall, these will help you get a better idea of what you can expect in every car in the Volkswagen family to make your car buying decision easier and less stressful.
Find Your VW Trim Today!
If you're in the market for a new Volkswagen, just click on the model you're considering to learn more about its trim levels.
Plus, here at Port Charlotte Volkswagen, we're dedicated to helping you find the car of your dreams inside and outside our showroom. So if you can't find a certain VW model, don't worry. We'll provide you with everything you need to know to make an educated and informed decision. Just contact our showroom at 877-299-9747877-225-9877 and ask to speak to one of our automotive experts.
And once you've chosen your ideal Volkswagen, don't forget to get a better look at it at our dealership to ensure that you make the right choice. Our dealership is located just minutes away from North Port, Fort Myers, and Sarasota, so stop in and schedule your test drive today!