Volkswagen Dealer near Cape Coral, FL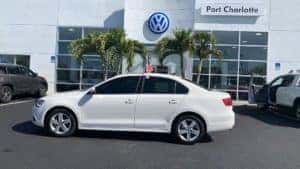 Cape Coral, FL lies directly across the Caloosahatchee River from Fort Myers on Florida's Gulf coast. There are two bridges that connect the city with Fort Myers, the Midpoint Memorial Bridge and the Cape Coral Bridge. The Cape, as it is often referred to, is Florida's 11th largest city and the largest city between Tampa and Miami on the east coast. The southwest section of Florida's 18-24 age group is growing at a faster rate than that of both Florida and the United States as a whole.
Interestingly, Cape Coral has more canals than Venice and actually more than any other city in the world. They were all man-made to accommodate a planned development back in the 60s. The residents love boating and fishing, as many have access to the open waters of the Gulf of Mexico from their backyard canals.
The Cape is the gateway to funky Matlacha Island and to laid back Pine Island, said to be the last remaining section of old Florida. There are active downtown communities along 57th and on Cape Coral Dr., including an Italian section of town with a popular old-time Italian market and restaurant by the name of Paesano's on Lafayette St.