Volkswagen Dealer near Cape Coral, FL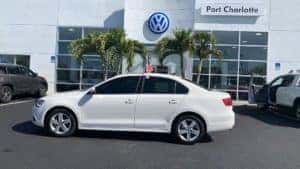 Cape Coral, FL lies directly across the Caloosahatchee River from Fort Myers on Florida's Gulf coast. There are two bridges that connect the city with Fort Myers, the Midpoint Memorial Bridge and the Cape Coral Bridge. The Cape, as it is often referred to, is Florida's 11th largest city and the largest city between Tampa and Miami on the east coast. The southwest section of Florida's 18-24 age group is growing at a faster rate than that of both Florida and the United States as a whole.
Interestingly, Cape Coral has more canals than Venice and actually more than any other city in the world. They were all man-made to accommodate a planned development back in the 60s. The residents love boating and fishing, as many have access to the open waters of the Gulf of Mexico from their backyard canals.
The Cape is the gateway to funky Matlacha Island and to laid back Pine Island, said to be the last remaining section of old Florida. There are active downtown communities along 57th and on Cape Coral Dr., including an Italian section of town with a popular old-time Italian market and restaurant by the name of Paesano's on Lafayette St.
Our VW Dealership near Cape Coral, FL
Southwest Florida is a huge market for a new Volkswagen and for our VW dealership serving Cape Coral, FL, and other communities. Our dealership was established here with one single goal in mind: to bring complete customer satisfaction to our growing base of customers by providing them with the amenities and service they would expect from one of the world's top auto manufacturers, Volkswagen, and our first-rate VW dealership serving Cape Coral, FL
We have been successful in that respect both online at our virtual dealership and in person at our state of the art sales and service and parts facility in Port Charlotte. We are able to serve the residents of Port Charlotte, Fort Myers, Cape Coral and Sarasota with distinction.
Port Charlotte Volkswagen has a trained staff of sales personnel, mechanics and service technicians who are dedicated to our goals. All of us are in agreement that a no hassle, friendly approach is the best way to reach out to our customers. That's how we operate and we know you will appreciate our efforts.
After all, when you represent the finest automobiles in the industry, pushy has no place. The cars and the achievements of the company speak for themselves. Come see for yourself the huge inventory of new and pre-owned Volkswagen vehicles in our inventory. If you are cramped for time, our website is easy to use and every car in our inventory can be found on the site. It makes shopping and comparing prices and features much easier.
You will be pleased to know that we have a full-time finance division working for you in search of the best rates and terms possible. You might even want to start the finance process before you start your car search. Our people can have an answer for you in record time and advise you just how much you could finance before you start your quest.
Visit Our Volkswagen Team Today!
Come visit the leading VW dealership serving Cape Coral at 1252 Tamiami Trail in Port Charlotte, FL 33953 at your convenience, or call 877-299-9747877-225-9877
To get to the dealership from Cape Coral:
Head north from Cape Coral to Pine Island Rd.
Turn Right (east) on Pine Island Road
Turn left onto U.S. 41 N (Cleveland)
Drive 28.6 miles to Port Charlotte Volkswagen on your right.