Volkswagen Tiguan Safety Rating

When you get behind the wheel of the Volkswagen Tiguan, you will have the peace of mind you are heading out on the roads of Fort Myers, Port Charlotte, and North Port in a ride designed to keep you safe.
With systems engineered into the design of the vehicle and other innovative safety features available, the 2019 VW Tiguan is ready to get you safely to your destination. Learn more about these different safety systems, which our team here at Port Charlotte Volkswagen has detailed below.
Enhanced Stability for a Controlled Drive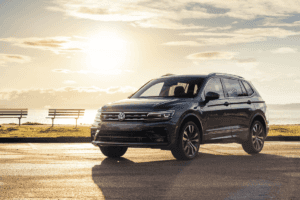 The Volkswagen Tiguan is engineered to effortlessly give you smooth and safe driving around every turn in the road. The Electronic Brake-pressure Distribution (EBD) is able to give you the stopping power you need to smoothly slow down when you need to brake hard.
With the Electronic Stability Control (ESC), the 2019 VW Tiguan is able to adjust the engine throttle and apply corrective forces to specific wheels to keep you steadily moving on your intended path. The VW Tiguan is also able to give you the traction you need by distributing torque to where it is needed.
There is also the available 4MOTION® all-wheel drive system you can get with the Volkswagen Tiguan. This will be able to help you safely drive through all road conditions since the system can automatically send power to the wheels that require it.
Driver-Assistive Technologies

Additional safety features can be had in the 2019 Volkswagen Tiguan with the range of available driver-assistive technologies. These systems will be able to monitor your current driving situation to keep you aware and confident as you make different maneuvers while driving.
You'll know when it is clear to change into another lane with the available Active Blind Spot Monitor that alerts you when an oncoming car is approaching. There is also the available Front Assist system that can warn you when you are getting too close to a car or pedestrian in front of you. This system also includes Autonomous Emergency Braking, which will help you quickly slow down to avoid a potential collision.
Helping You See Your Surroundings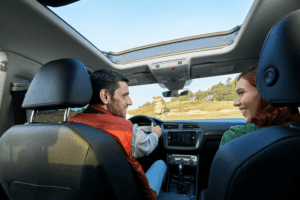 The VW Tiguan also comes with a Rear View Camera System. This will display a view of what is behind your vehicle when reversing right on the display screen in the vehicle. This will let you clearly see if there is anything in your way while backing out of the driveway.
You can even get a more complete view of your surroundings in the 2019 Volkswagen Tiguan with the available Overhead View Camera (Area View). This will give you a top-down view of your VW Tiguan so you can see what is behind, in front, and to the sides of the SUV. This available camera is extremely helpful when getting in and out of parking spots in crowded lots.
Come See the 2019 Volkswagen Tiguan
If you are looking for a safe midsize SUV, you can see that the Volkswagen Tiguan delivers a confident driving experience as it keeps you and your family safe out on the roads of Fort Myers, Port Charlotte, and North Port.
Stop on by Port Charlotte Volkswagen today to come see the 2019 VW Tiguan in person and learn about the other technology that is equipped in this vehicle.