Volkswagen Jetta MPG

In the market for your next sedan to zip around the roads of Fort Myers, Venice, and North Port, Florida? If so, turn your attention to the 2021 Volkswagen Jetta. Not only is this vehicle stylish and versatile, but it makes a great commuter vehicle with its top-notch fuel efficiency.
Before contacting our team at Norm Reeves Volkswagen Superstore Port Charlotte to schedule a test drive, continue reading to learn more about the VW Jetta model's impressive MPG!
---
Standard Powertrain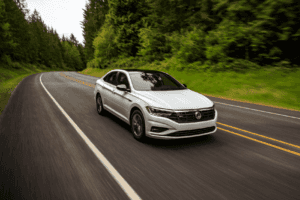 One of the most popular features that drivers research when shopping for their next vehicle is their powertrain. Its powertrain contributes to many factors, including power output, performance, and fuel economy. The 2021 Volkswagen Jetta comes standard with a 1.4L turbocharged engine, which is mated to a 6-speed automatic transmission. The base powertrain creates an output of 147 horsepower and 184 lb-ft of torque.
To give you an even peppier performance, and to create betting fuel ratings, the VW Jetta offers driver selection modes. This includes Eco, Sport, Normal, and Custom mode. With the base powertrain and with the help of its driving modes, the VW Jetta achieves an excellent EPA-estimated 30 city/41 highway MPG.¹
How to Maximize Your VW Jetta MPG
The Volkswagen Jetta is an extremely fuel-efficient vehicle, but did you know there are ways to make your ratings even better. Below are just a few things you can do to better your VW Jetta model's MPG:
Did you know that when your gas cap is loose, it can decrease your fuel ratings? Checking to ensure your cap is tight is such a simple thing to do to increase your VW Jetta MPG.
Choose the Best Motor Oil
Another easy way to improve your VW Jetta MPG is choosing the right oil for your vehicle. When you bring your VW Jetta in for service, our technicians use only the best. If you take care of your oil changes at home, you can take a look at your VW Jetta driver's manual for what oil you should be using.
Keep Your Left Foot Off the Brake Pedal
Less braking is always a good thing. Not only will it decrease wear and tear on your brakes, but it'll help you achieve those better ratings.
Decreasing your speed, even by a few Miles Per Hour, can make a difference on your fuel ratings. Always, ensure you're accelerating smoothly if you want the best MPG for your VW Jetta.
Keep up With Routine Maintenance
Lastly, bringing your vehicle in for service with us will also help to improve your fuel economy. This includes getting routine maintenance performed, such as oil and oil filter changes, tire rotations, etc.
Discover the Volkswagen Jetta Today!
Now that you know a bit more about the Volkswagen Jetta and its excellent fuel ratings, are you ready to get behind the wheel? If so, we encourage drivers near Fort Myers, Venice, and North Port, FL, to contact our team at Norm Reeves Volkswagen Superstore Port Charlotte to schedule a test drive today!
130 city/41 highway mpg (2021 VW Jetta 1.4L, 6-speed manual transmission). EPA estimates. Your mileage will vary and depends on several factors, including your driving habits and vehicle condition.