Volkswagen ID.4 MPG
Modern automotive technology has made some impressive advancements, particularly with electric vehicles. Drivers are sure to have questions about these exciting and capable rides as they shop for their next car. One of the most important questions to ask is how far they can travel on a full battery.
Drivers looking to explore Fort Myers, Venice, and North Port, Florida, in an electrifying new way should check out the Volkswagen ID.4 EV. Our guide to the VW ID.4 MPG will detail what goes into this impressive, all-electric SUV.
Read on to see what the team at Norm Reeves Volkswagen Superstore Port Charlotte has found out about this enticing new SUV. Contact us today for more information.
VW ID.4 MPGe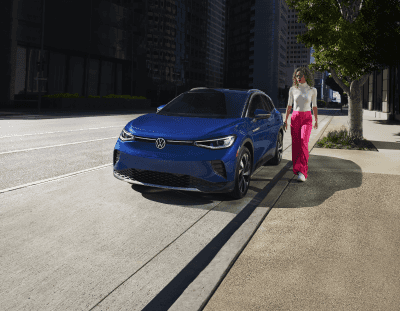 In order to give you a clear idea of battery range, the Volkswagen ID.4 is measured in miles per gallon of gasoline-equivalent or MPGe. It's important to be able to go the distance, and the battery on the VW ID.4 works hard to get you where you're going efficiently.
The VW ID.4 achieves an EPA-estimated 104 city and 89 highway MPGe thanks to its stellar engineering.* On a fully charged battery, the VW ID.4 has an EPA-estimated range of 250 miles.1
You'll be able to get out and explore the area or make days and days of commutes on this battery. Plus, you can enjoy driving without having to make frequent stops to refuel and recharge.
Engineering
Under the hood of the Volkswagen ID.4, the permanent-magnet synchronous engine is hard at work as it generates 201 horsepower and 229 lb-ft of torque. This enticing power makes the lithium-ion battery's range even more impressive.
There are two drivetrains available on the VW ID.4, depending on your needs for power and control. Rear-wheel drive gives you strong acceleration feeling on the road, while available all-wheel drive uses more battery power to give you greater control over each of the tires.
What Affects MPG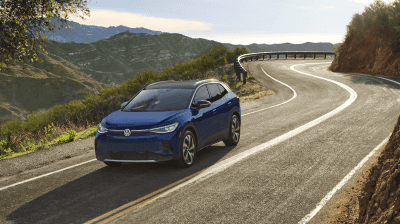 Since efficiency is such a major appeal for the Volkswagen ID.4, you'll want to make sure that your drives are efficient as well. There are many good habits to start practicing in order to make good use of your battery life.
Aggressive accelerating and braking will use up more power and lower your overall battery efficiency. Instead, make your acceleration and deceleration smooth and steady to improve your battery's efficiency.
As you load up on passengers and cargo, the vehicle's overall weight will play a role in its fuel efficiency. Your passengers will have plenty of fun in the cabin thanks to this vehicle's spacious 99.9 cubic feet of passenger volume.
Keep in mind that as you add more weight in the form of people and luggage, the VW ID.4 will need to use more power to let you cruise down the highway.
Experience Volkswagen ID.4 MPG Today
As you plan for your future drives around Fort Myers, Venice, and North Port, FL, you can expect to have efficient drives in the stylish, electric VW ID.4.
Get ready for your own electrifying future with a test drive at Norm Reeves Volkswagen Superstore Port Charlotte today!
1 ID.4 Pro S and 1st Edition EPA estimates: 97 combined city/highway MPGe. EPA estimated total range is 250 miles. Your ability to complete trip as described will vary and depend on several factors including driving and charging habits, accessory use, temperature and topography, battery age, load, and vehicle condition, occupant count and cargo volume. Battery capacity decreases with time and use.  See owner's manual for details. Different vehicle variants, including AWD variants, will have different ranges.
---