Buy Your Volkswagen Online!

The car-buying experience has evolved over the years. It's actually become more customer-focused and convenient. However, what's more convenient than shopping from home to find the right Volkswagen to get you around the streets of Fort Myers, Venice, and North Port?At Port Charlotte Volkswagen, we're here to help drivers learn more about how to buy a car online. We'll walk you through the process, so when you're ready to take your next step (or click) you'll know what to do!
Browsing the VW Selection
The first step on how to buy a car online is by reviewing your options. You'll have plenty of models to choose from at our dealership, and luckily, you can browse the entire selection from the comfort of home! You can check out models like the sleek and compact Volkswagen Jetta, the agile and powerful VW Gulf, or even the spacious and accommodating Volkswagen Atlas—among several other models.
You don't have to look at each and every vehicle, however, because you can use filters to tailor your search and to narrow down the results. You can search by model, price, or even feature. You can find your next car in no time!
Beginning the Process of Buying Your Car Online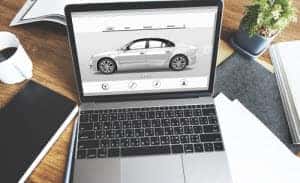 The next step is going through financing. You can easily apply for financing online by filling out the application. This form is encrypted, and your information only gets shared with us, so you can rest easy knowing that you're secure.
Once our team has the information they need, they'll begin getting your available loans in order, and you'll be able to decide on the one that's right for you based on the terms, conditions, and rates! Once you've selected your ideal loan, they'll get the ball rolling so you'll be ready to sign electronically.
You can even use the payment calculator to get a sense of your monthly payments. However, you can also use your current vehicle as a down payment by trading it in. You can value your trade with us and use it towards your next car!
Delivered to Your Door

After making your purchase, you don't have to worry about coming to get your car. That's because we'll deliver it right to your door! Once it arrives, you'll be ready to take on the roads and enjoy the energetic and efficient performance of your Volkswagen!
When's the Best Time to Buy?
We've had plenty of drivers ask us, "When is the best time to buy?" Because you know how to buy a car online, now's the best time! Of course, you could always wait around for holiday sales events and the end of year, but if you need a car, why wait?
Start Buying Your Car Online Today
Now that you're familiar with the online car-buying process, you're ready to get started. Begin by browsing the selection and applying for financing. Once you go through the process, we'll deliver you your new Volkswagen so you can take on the streets of Fort Myers, Venice, and North Part!