Volkswagen ID.4 EV Interior Review

With the recent release of the Volkswagen ID.4 EV, many drivers are curious about what kind of interior cabin space they can expect. At Norm Reeves Volkswagen Superstore Port Charlotte, we've written a thorough review of the vehicle's interior to give you a better idea of what to expect. We're sending this out to our valued customers near and around Fort Myers, Venice, and North Point, FL.
Interior: Dashboard & Console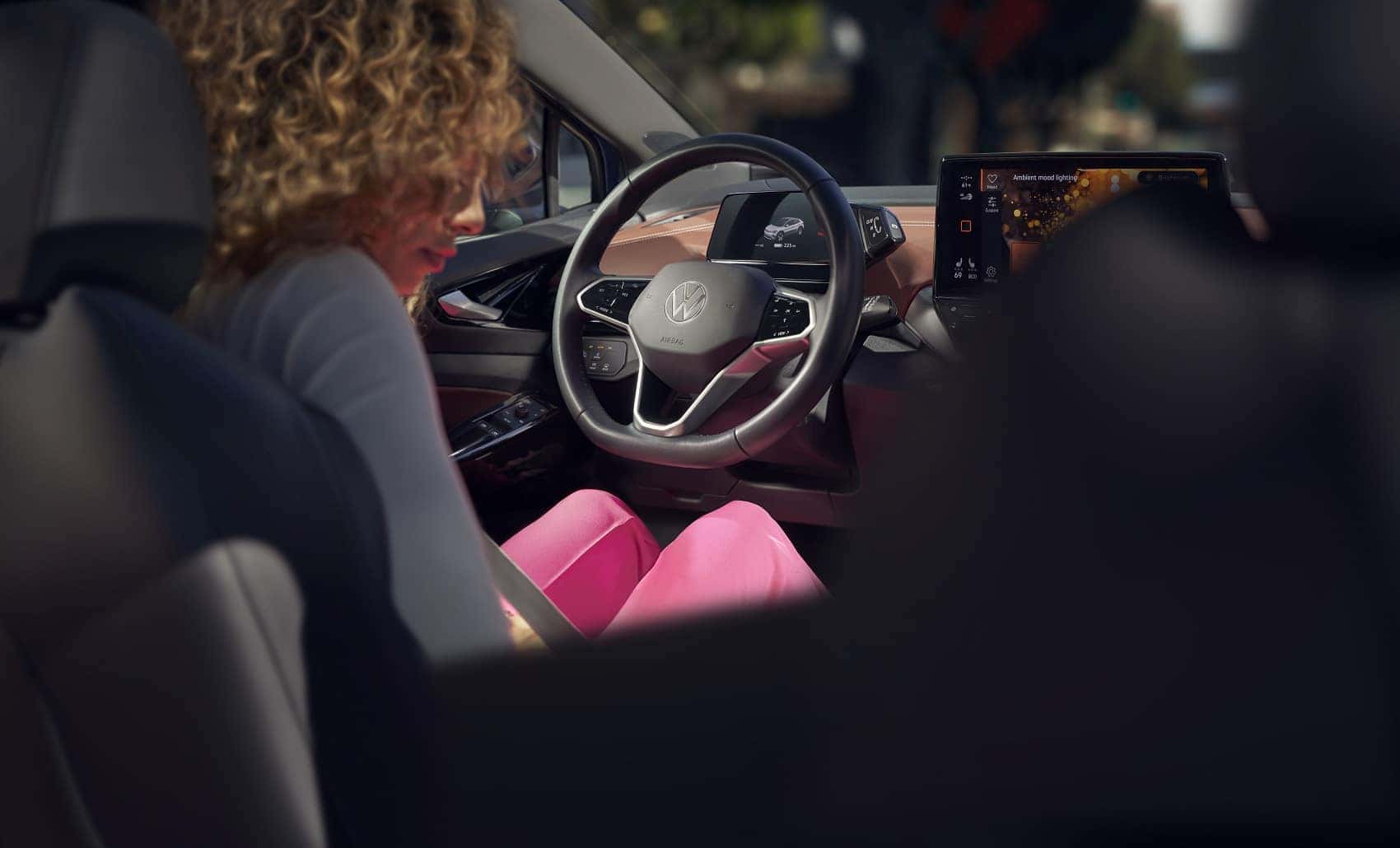 The interior cabin features an airy design with an eye for precision. An innovative digital display has replaced traditional analog instrument clusters. This new display is housed in a 5.3-inch ID.Cockpit that's attached to the steering column, so it remains in your sightline. The dash panel appears to float now that it is unconnected to the center console, giving it a taste of the futuristic design that casually makes itself known.
The center console is spacious in its design, running between the front seats with room to space. It is based on a modular design philosophy meaning you can reconfigure it without much issue, thanks to specially designed adaptable inserts. Inside the rear compartment is an illuminated wireless charging pad for compatible mobile phones and two USB-C ports. There are also two more USB-C ports available for rear-seat passengers.
Interior: A Place of Dynamic Quiet
A neat about the VW ID.4 EV is that the interior fosters a creative and calming setting due to specific design features. Coming standard on all models is a 10-color ambient lighting system. As you move higher in the levels of trims, they can add additional colors. For the general driver, this ambient lighting can be set to different moods, which engages color therapy to help you relax and unwind from the day.
Not to be left out is the unusual quiet of the vehicle. This is due to sophisticated aero-acoustics and insulation for the body that greatly reduces air and body intrusion offered by the drivetrain, running gear, and tires. Silence can be healthy, especially if you've spent the day in meetings or would like to sit with your thoughts under the ambient lighting while navigating home.
Interior: Infotainment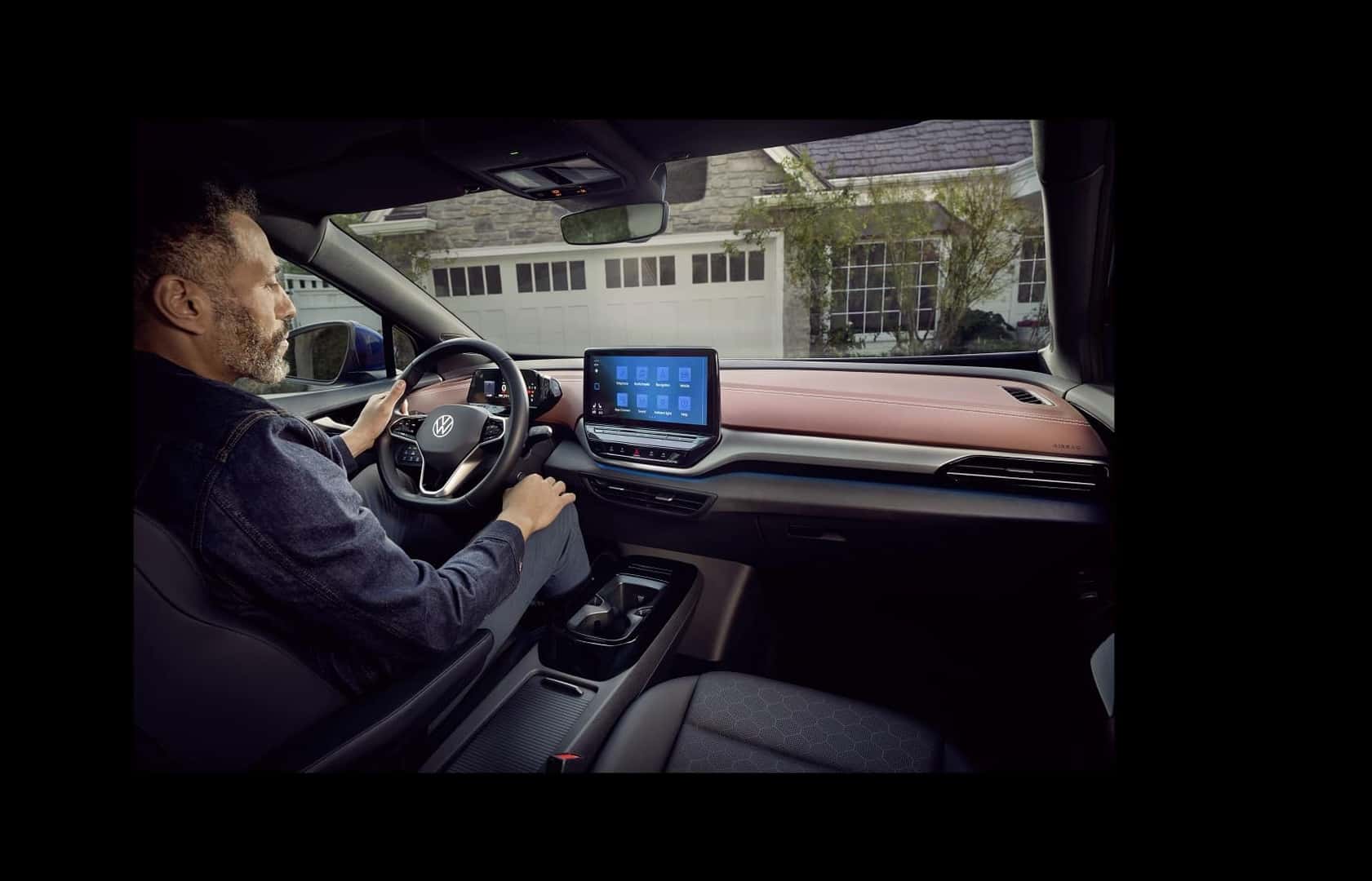 The interior of the VW ID.4 EV goes strong on the futurist design, going so far as to cut down on buttons until only a few are left. In their wake, functionality is almost completely controlled by touch or voice control. For example, the leather-wrapped multifunction steering houses touch-sensitive control that provides haptic feedback.
For infotainment, a 10-inch Discover Pro touch display is located in the middle of the dash panel, angled slightly towards the driver. It can be configured to driver preference and manages the standard navigation system while also including all telematics, entertainment, driver-assistance systems, and vehicle settings. The vehicle also offers wireless App-Connect, SiriusXM®, and Volkswagen Car-Net® with an in-car Wi-Fi capability.
The App-Connect smartphone integration for compatible devices allows users the ability to run select smartphone apps directly on the display through Apple CarPlay®, Android Auto™, and MirrorLink®.
Reserve Yours Today!
Now that our valued customers near and around Fort Myers, Venice, and North Point, Florida, have read our Volkswagen ID.EV interior review, it's time to get online and reserve your vehicle now. The team at Norm Reeves Volkswagen Superstore Port Charlotte will streamline the reservation process for you and get you on board today!